Resource Library
Mobile Resource Library Tabs
Resources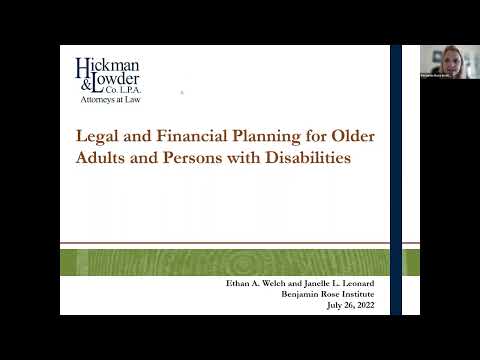 Legal and Financial Planning for Older Adults and Persons with Disabilities
Join us for an informative webinar discussing how older adults and people with disabilities can protect their assets against financial exploitation. Information includes how to properly draft powers of attorney, the use of trusts in legal planning, and the rules and guidelines of Medicaid.
Watch
By Ethan A. Welch, Janelle L. Leonard | 07/27/2022
What Does Wellness Look Like for Dementia Caregivers?
Anyone providing care for a loved one with dementia knows how stressful it can be. Not only can the tasks involved be challenging and exhausting, but there is a very emotional level as well. But even with all the challenges , caregivers often neglect self-care, infrequently check in on their own health and either don't know about or don't use opportunities for respite.
Read More
By Julie Hayes | 07/15/2022
Increasing Utilization of Caregiver Support Services
As professionals in the aging sector, we know there are dozens of helpful support services and resources available to family and friend caregivers that could significantly help to reduce caregiver stress and burnout. Unfortunately, the caregivers who need them the most often don't seem to know it!  
Read More
By Michelle Palmer | 07/15/2022
How Caregivers Can Get Involved in the Community
Many times, people think of volunteering or being involved in the community as another activity to add to their to-do list. This can especially be the case when the project we have signed on for is out of our realm of interest. Caregivers can also often feel they do not have enough time to engage in activities they enjoy. However, finding the perfectly tailored volunteer opportunity or community engagement program can be key to gratification in our personal lives.
Read More
By Abbey Carney | 07/15/2022
Helping an Older Loved One Stay Cool at Home During the Summer Heat
With summer temperatures reaching 90 degrees or over in certain parts of the country, COVID-19 guidelines that recommend staying at home may seem like a blessing. After all, it's easier to keep cool in a well air-conditioned room than it is outside in the blistering heat. However, staying cool at home isn't always as easy as it sounds, especially for older adults. According to the CDC, people aged 65 and older are at an increased risk for heat-related health problems such as heat stress, heat intolerance and difficulty regulating body temperature.
Read More
By Julie Hayes | 08/12/2020