Resource Library
Mobile Resource Library Tabs
Content with Topic Services and Interventions .
Resources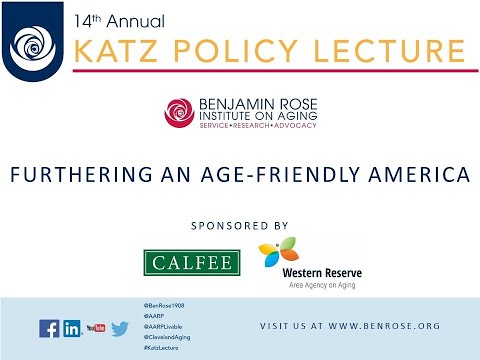 Furthering an Age-Friendly America
The 14th Annual Katz Policy Lecture from Benjamin Rose Institute on Aging was held October 29, 2020. Keynote speakers, Bill Armbruster, Senior Advisor of AARP Livable Communities, and Mary McNamara, Director of the Cleveland Department of Aging, discussed age-friendly communities, including work developing nationally and in the Cleveland-area. The webinar introduced the Age-Friendly Network, outlined the importance of age-friendly communities to support individuals aging in place, and discussed the connection between age-friendly and dementia-friendly communities. Panelists discussed ongoing work and future directions to make Northeast Ohio age-friendly.
Watch
Ejaz, F. K., Rose, M., Reynolds, C., Bingle, C., Billa, D., & Kirsch, R. (2020). A Novel Intervention to Identify and Report Suspected Abuse in Older, Primary Care Patients. Journal of the American Geriatrics Society, 68, 1748–1754. https://doi.org/10.1111/jgs.16433
Orsulic-Jeras, S., Whitlatch, C. J., Powers, S., & Johnson, J. (2020). A dyadic perspective on assessment in Alzheimer's dementia: Supporting both care partners across the disease continuum. Alzheimer's Dement. https://doi.org/10.1002/trc2.12037
Chen, L., & Ye, M. (2020). Community Eldercare Ecology in China (1st ed. 2020 edition). Palgrave Macmillan.
Primetica, B., Scharf, L. (2019, November 12). Where to Turn When Your Adult Child Has Developmental Disabilities. Retrieved from https://www.guideposts.org/caregiving/family-caregiving/advice-for-caregivers/where-to-turn-when-your-adult-child-has-developmental-disabilities