Financial Health & Wellness
Financial Health and Wellness Image
Financial Health and Wellness Description
Did you know that research shows there is a direct relationship between physical and financial health? Individuals with high financial stress are twice as likely to report poor health overall, and are four times as likely to report fatigue, depression or other ailments. Because of this, Benjamin Rose Institute on Aging is committed to serving all aspects of wellbeing, not only physical, mental, emotional and behavioral, but also financial health and wellness. We have free resources and services available through our subsidiary ESOP to help you achieve and maintain financial wellness and housing stability, including:
Housing counseling
Senior financial empowerment

Resources and referrals for financial benefits such as Medicare, legal aid or vision care
Property tax loan
Financial education workshops to help plan for unexpected life events and protect against fraud, abuse and poor credit
One-on-one financial counseling

Advocacy on your behalf with credit services and loan companies to assure your records are accurate and you are receiving a fair and manageable repayment plan
Income tax prep
With our support, you can empower yourself to reach a secure financial future and stay educated on the issues most important to your financial wellbeing.
Empowering and Strengthening Ohio's People (ESOP)
Empowering and Strengthening Ohio's People (ESOP)
ESOP is a full service housing and financial counseling agency and subsidiary of Benjamin Rose Institute on Aging. ESOP staff helps adults in all stages of life achieve and maintain financial wellness through free services that provide knowledge and tools for financial stability.
Learn More
Resources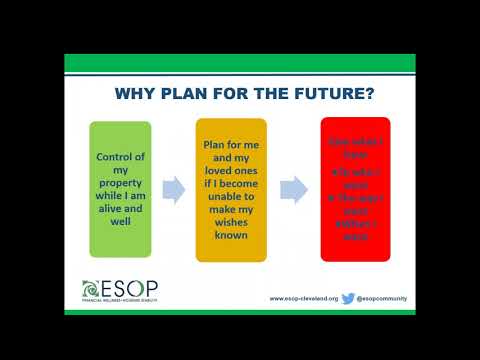 The Caregiver's Guide to Estate Planning: How to Prepare for Yours and Your Loved One's Futures
When was the last time you and your loved one had a discussion about estate planning? If you're like many people, it's probably been a while. This webinar will discuss what important financial and medical documents are necessary in case of an emergency, and what to do in those situations. Having these items prepared and organized will not only protect your loved one, but as a caregiver it will give you peace of mind to know that everything is taken care of in advance.
Watch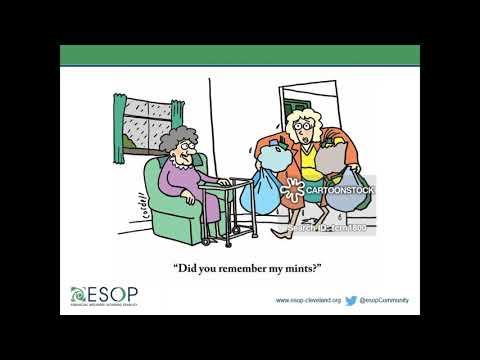 The Financial Fatigue of Caregiving
Are you feeling the financial strain, or emotional and physical stress that comes along with caring for a loved one? This workshop will give you the tools needed to alleviate those stressors and help you to navigate your way around the additional expenses that caregivers endure.
Watch
What to Consider When Helping an Older Loved One Choose a Medicare Plan
With Medicare's Annual Open Enrollment ongoing from October 15 to December 7, you may have already begun discussions with your loved one on the basics of Medicare, such as differences from Medicaid and what the different plans and options are. But before such an important decision is made, it's important to go more in depth by preparing the right questions with your loved one to guide the conversation and exploring the different points of consideration that will help determine which plan is best for your loved one's individual needs.
Read More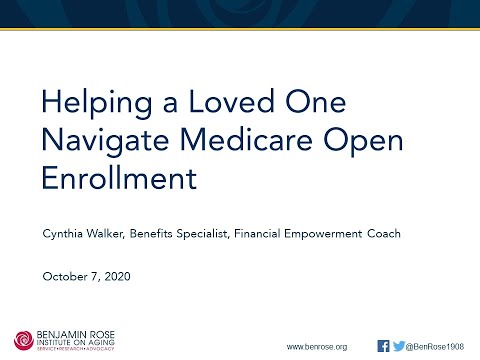 Helping a Loved One Navigate Medicare Open Enrollment
October 7 virtual program for caregivers from Benjamin Rose Institute on Aging.
Watch
What to Know for Medicare Open Enrollment
Every year, Medicare's Open Enrollment period runs from October 15 to December 7. As a caregiver, you undoubtedly know how important insurance coverage is to securing your loved one the affordable care they need when they need it. What can be less certain, however, is knowing which exact program and options your loved one is qualified for and would most benefit from. As much as you want to help them through the process of enrolling in Medicare, you may be struggling to understand it yourself. The good news is that by learning the various benefits covered by different plans, you can put yourself in a better position to care for your loved one's health needs and find the right plan for them.
Read More