Resource Library
Mobile Resource Library Tabs
Content with Topic Health and Wellness Services .
Resources
Parkinson's Disease: Recognizing Your Loved One's Symptoms and Receiving a Diagnosis
According to the Parkinson's Foundation, more than 10 million people worldwide are living with Parkinson's Disease, and around 60,000 Americans are diagnosed with the disease each year. Although it is the second most common degenerative neurological disorder after Alzheimer's, many people are unfamiliar with the signs and symptoms, or confuse them for parts of the natural aging process. If we are caring for an older loved one, it's important to recognize and understand Parkinson's so we know when to begin seeking a diagnosis and how to better manage a loved one's symptoms and care.
Read More
By Julie Hayes | 12/15/2020
Weitzman, L. (2021, November 4). Mental Health: What It Means to be Well. Next Avenue. https://www.nextavenue.org/mental-health-what-it-means-to-be-well/
Preparing for Your Future After an Early Onset Dementia Diagnosis
A diagnosis of dementia can be devastating no matter your age. However, older adults, especially those over the age of 65, tend to be more aware of the possibility of dementia, and know that their risk statistically increases each year. But for younger adults, being diagnosed with dementia between the ages of 30 and 60 is not only upsetting—it can be outright shocking.
Read More
By Julie Hayes | 03/15/2022
What to Know About Dementia Screening and Assessment Tools
If you're a family member, friend or caregiver who suspects a loved one might have dementia, it's important to know about cognitive screening and assessment tools. Since there is no one biological marker or blood test to pinpoint dementia, cognitive tests help doctors evaluate the state of your loved one's memory, recall, language recognition and ability to follow instructions. If you plan to bring your loved one to a doctor, a combination of tests may be used to screen your loved one for dementia. And, if you are hesitant to consult a doctor just yet, many of these tests include questions that you can try asking your loved one yourself to help you confirm your suspicions. 
Read More
By Julie Hayes | 02/15/2022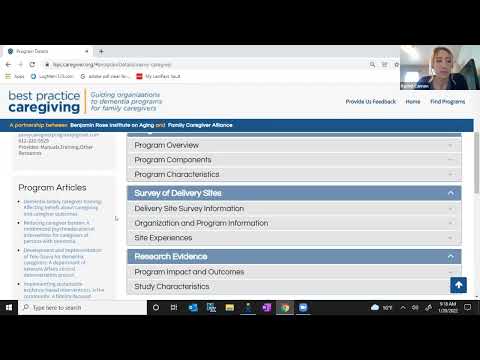 Annual Caregiving Conference: Engaging Caregivers in Evidence-Based Programs
The conference explores successes and challenges in the dissemination of evidence-based programs to family and friend caregivers. Keynote speaker, Erin Long, MSW, Team Lead, Alzheimer's Disease Programs Initiative of the Administration for Community Living, discusses experiences with engaging caregivers in programs and services, along with marketing strategies. Presentations also highlight experiences of organizations engaging caregivers and delivering evidence-based programs, including strategies to overcome barriers that keep caregivers from enrolling in support programs, and lessons learned through their marketing efforts.
Watch
By David Bass, Rachel Cannon, Erin Long, Branka Primetica, Donna Barrett, Christine Jensen, Ginger Ragans, Lisa Weitzman | 01/24/2022